VW Beetle 53 Edition: Herbie is back
For a generation, the VW Beetle, it is first of all Herbie, the intrepid auto of the films produced by Walt Disney. So we imagine that that temptation was big, in the marketing services of Volkswagen, to stamp the sequel of the auto of the famous 53.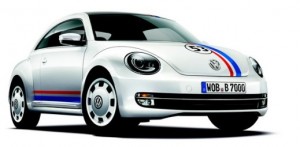 Naturally white, Beetle 53 Edition takes, in addition to the legendary number, the necessary red and blue stripes. Well it plays on our fiber nostalgic, it does not fail to bring it up to date because the tire pressure control, Park Pilot, dual-zone automatic air conditioning, the USB controller or else regulator of speed is in the menu of this special series. Models equipped with the 2.0 TDI 140 hp even have the right to the rear spoiler.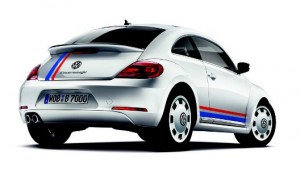 The wheels used are those that evoke the most original wheels, namely the One Type of 17-inch, painted in white. Finally under the hood, Iberian neighbors are also keen on diesel that we, the piece is made to TDI, represented by the 1.6 of 105 hp and 2.0 of 140 hp, with the available DSG box optionally in the latter case. But the base price (€ 22,090) is still provided by the 1.2 TSI 105 hp.