Seat presents the new Ibiza Cupra
The last concept (Ibiza Cupra Concept) revealed in the aisles of the exhibition in Beijing had not misled anybody in front of clearly being posed like the first stone in the garden of future Ibiza Cupra.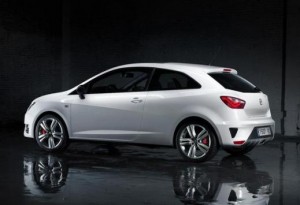 Confirmation the Spanish manufacturer raises the veil on the news Ibiza Cupra developed around the version three doors alias SC. The only evocation of the Cupra term at Seat, Leon or Ibiza, aims to be synonymous with additional sportiness.
In fact the case for the eponymous Ibiza news takes again on the mechanical level the 1.4 TSI developing 180 hp and 250 Nm ensuring the following performances: 228 km/h top speed, 6.9 seconds to go from 0 to 100 km/h to 5.9 L/100 km. The engine is coupled here with the 7-speed DSG.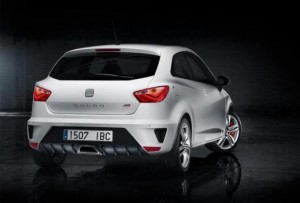 Level chassis and running gear, Seat announces that sought the ultimate in performance, agility and precision. The body height was reduced, the electronic differential autoblocking XDS taken up by series or springs/re-calibrated shock absorbers. Also let us note in option the possibility of choosing a unit braking AP Racing. On board, the car wins a new steering wheel sport with Cupra logo, new seats sports when the outside lets discover the rims of 17″ or cockles of rear-view mirrors in finishing your bright black.
Finally, the Cupra takes over all elements of finishing FR offering including more Seat Portable System (already seen on the Mii), the infotainment system of the brand. Seat does not mention it, the Ibiza Cupra should be unveiled in the aisles of the exhibition of 2013 Geneva Motor Show.