Presentation of the new Opel 1.6l turbo petrol engine
On the occasion of the Aachen Colloquium, Opel is back in more detail the characteristics of the new turbo petrol engine. This engine will be installed in the first place the new Opel Cascada.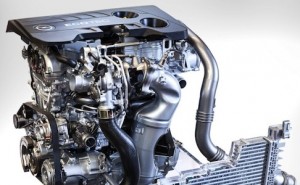 The 1.6L Turbo Ecotec SIDI will be available in two powers: a variant of 170 hp and 280 Nm developed with the main objectives of a good control of fuel consumption, torque available over a wide engine speed range for better times and finally, silence optimized operation. The second variant of 200 hp and 300 Nm, wants to be a benchmark in its class in terms of performance. BMW, PSA and others are warned.
The cylinder block cast remains low while the engine is made of aluminum. The cylinder can withstand a pressure that can reach up to 130 bar. The cylinder block use of thin walls, limiting the weight and guaranteeing a good compactness allowing direct integration of some features (cooling, …). This technique also allows reducing the time of engine block.
Vibration and acoustics have been a major development in the 1.6l turbo. Opel announces that this engine is the only category to be equipped with balance shafts, thus reducing vibration. In order to limit the noise of the valves, they are actuated by cam roller (low friction). Distribution is by chain. Generally noisier than a belt, chain noise is reduced by using a specific design (inverted tooth).
Particular attention has been focused on the reduction of radiated noise (induced by vibration of low typical of silent wall thickness steel plate) through extensive use of computational resources (finite element simulation). At idle, the engine and exhaust are free of audible vibrations. Opel has naturally worked on the acoustics of the exhaust and the intake for a neat sound and rewarding for the end customer.
The turbo is directly integrated into the exhaust manifold. This principle has been preferred to double turbo entry due to its compactness and ease of mounting on production lines. Although turbos are identical from the outside, each of the two variants (170 or 200hp) has a specific aerodynamic. The compressor is optimized to minimize ringing.
Inside the cylinder, the design of the piston varies according to the variation of 1.6l turbo. The injector is in a central position on the top of the cylinder near the spark plug. In this way, the engine is able to operate also in homogeneous drying support stratified charge (excess air). Opel promises a decrease in emissions of CO2 in the order of 13% and an increase of 33% in terms of power and torque compared to the engine it replaces.
The 1.6l is the first application of a new generation of engines to equip future models from the brand to the Flash.