Nissan Altima V8 Supercars
The next year, for the first time since 1993, there will be 3 builders in V8 Supercars: Ford, Holden and Nissan (Mercedes will be present on an informal basis). Of what ensure good fights. The Japanese manufacturer took advantage of the lounge in Melbourne to reveal its future mount, an Altima.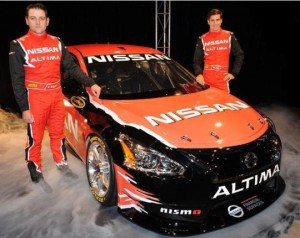 As expected, the program is under treaty to Kelly Racing. Rick and Todd Kelly are both preparer and future drivers of the car. It took nine months to build the car.
The two brothers have more merit in parallel; they compete for the V8 Supercars 2012 with Holden! Two other drivers will be hired.
The engine is a V8 5.0 L VK56DE. Prepared by Nismo, it derives from the engine of the GT-R for Super GT.
There is no Altima V8 to the catalog, but the regulation is liberal. The arrival of a V8 Patrol is sufficient for the legislature. The platform is the "Cars of the future". It will be shared with the other cars in the championship in 2013.
The only downside is the aerodynamic package: the Altima is more compact and has a better CX than its rivals. However, the organizer wants fairness.