HSV ClubSport R8 Hybrid with Walkinshaw Racing
HSV, the preparer assigned to Holden, distills some information on a Clubsport R8 hybrid. Lots of questions, not much response. In any case, it's still the manly!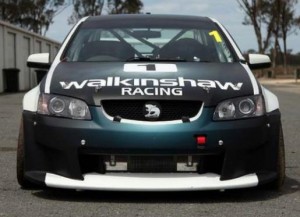 HSV is contacted by an Indian Developer, to create a monotype cut of ClubSport R8. Two other Asian countries (China and Malaysia) would also be interested to create local editions.
Walkinshaw Racing is responsible for building a demonstrator. Garth Tander, HRT driver (the antenna competition of Walkinshaw) in V8 Supercars, takes care of the development. HSV had a first draft of the hybrid in 2007.
This time, Walkinshaw is part of a Chinese hybrid transmission (SAIC) to which it adds a KERS. The objective is to offset the decline of displacement of the V8, up from the 6.1 "only" 5.5l.
For info, the ClubSport R8 "normal" developed 543ch. It has a look inspired by V8 Supercars with roll cage, electronic instrumentation and 18-inch wheels.
The ClubSport R8 Hybrid should turn in India in December to promote the series. A "normal" version will also be present.