Honda Micro Commuter production approach
Just over one year ago, the Tokyo Motor Show showed a flurry of activity in the segment of vehicles with 4 wheels, between scooter and car. Several concepts, of which one approach the series, Honda Micro Commuter.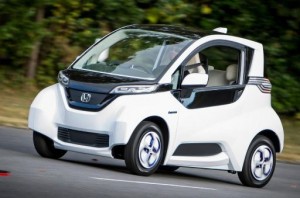 The activities of Japanese manufacturers of electric vehicles that can be between the scooter and the car can largely find its origin in the presentation in November 2010 by Nissan with a version marked with its logo of the Renault Twizy. And began the same hypothesis of the creation of a new category of regulated vehicles in Japan…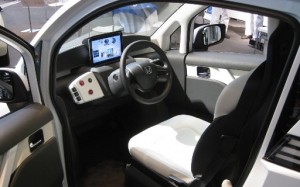 In addition to Suzuki and Daihatsu, Honda also committed itself in the breach with the Micro Commuter. A concept that is close to the production. Not in large series for the time being, since Honda is starting in 2013 different fleets of tests to validate the operation and suitability to the uses of different categories of customers (families, elder person, government …). The Japanese regulation is also under discussion.
The Micro Commuter is a small car of 2.50m long, 1.25m wide and 1m445 high. Its maximum speed is 80 km/h and 60 km of autonomy, for a loading time of less than 3 hours. This version can carry three passengers those placed behind the driver. But more than a model, it is an architecture that offers Honda. Honda will be able therefore to receive other variations, more playful, or more utilities.