Honda Accord Coupe Grand Touring
It is on the basis of a Honda Accord Coupe, unknown at the heart of our beloved lands, and the Japanese manufacturer and Bisimoto Engineering unveil this Accord Coupe Grand Touring in the aisles of the SEMA Show.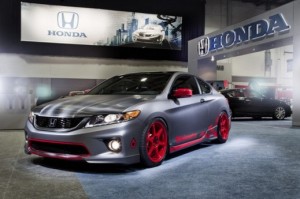 Atmosphere race for Japanese uninhibited without falling into too ostentatious on the cosmetic plan… Resolutely cut for the race, the Honda Accord Coupe Grand Touring receives its share of changes at all levels. This begins with a treatment of mechanical and overfeeding via a compressor or a new line of exhaust this offering the V6 3.5-liter with an output of 400 hp.
This proposal also won various elements in running gear, chassis and sports suspension between Falken tires of 245/40, wheels of 19″, stabilizer bars or even whole braking Buddy Club Racing.
We also note the presence on board of sport seats and a roll bar. As to the outside, in addition to the decorative treatment based on stickers, side skirts and bumpers from the catalog Honda Factory Performance complement the offer.