The change was announced in the spring by a concept. The Honda Crosstour continues its career and enjoys a slight change in style, coupled with a decline in price, just trying to give a little more of a boost to sales…
Parent unloved Family Agreement, the Crosstour is not as successful as hoped. The arrival of the 4-cylinder version has somewhat improved the situation, but without excess. Along with the new agreement, the Crosstour refreshes its trying to be more SUV through its black rocker underlined of chrome. The grille takes volume, integrating into the new Accord range. Inside, smooth evolution of materials and colors to look a little more rewarding.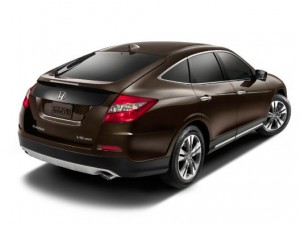 No major mechanical changes, always the 4-cylinder 2.4 liter of 192 hp only in traction, or the V6 3.5-liter which passes to 278 hp, with the traction choice or 4 driving wheels. It also improves fuel consumption and points now with 23 mpg in combined cycle (version 2 driving wheels/10.23 L/100km), starting from 21 mpg (11.2 L/100km) for the model of the 2012 year.
Some new devices are introduced: access and start hands free startup, alert crossing line, monitoring of blind spots, alert of frontal collision risk… As for the price drop, it reached $525, but only for version 4 cylinder, while the V6 climbs slightly.