The NSX was expected in its final form in 2014 or 2015. A senior official of Honda Brazil has stated, on the occasion of the automobile show in Sao Paulo, the production version will be presented much earlier.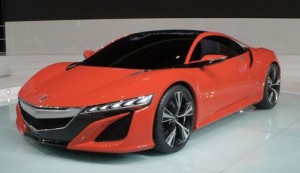 In all likelihood, the NSX is expected to debut next January at the Detroit Auto Show (NAIAS). The production vehicle should have a style very close to the concept presented a year earlier at the Detroit Auto Show in 2012. The concept car is currently on display at the show in Sao Paulo before being presented for the last time at the Tokyo Motor Show in November.
The NSX should be sold during the first quarter of 2013 in the United States under the brand Acura (Honda's luxury brand) before reaching the European continent later this year under the Honda badge.
If no official announcement has yet been made, it always appears highly likely that this Acura will be propelled by a V6 3.5l direct injection installed in a rear central position. The engine, causing the rear wheels would be assisted by two electric motors connected to the front wheels (SH-AWD – Super Handling All Wheel Drive). The power is transmitted via a 7-speed dual clutch. Finally, the electronic control unit notes an advanced system of distribution of torque to all four wheels (Torque Vectoring).
The Acura/Honda NSX will be developed and manufactured in the United States, in Ohio. Finally, the NSX should make its appearance on the track in 2014 in the GT class.