Honda HPD Supercharged CR-Z Concept
Supercharged and Concept: two short terms would all be practiced on this proposal unveiled by HPD (Honda Performance Division) on the occasion of the present SEMA Show which takes place in Las Vegas.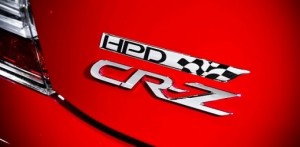 There is not that big V8 and co in the life… It is the IMA hybrid system and 1.5 i-VTEC also … Mechanical soul offered to the Honda CR-Z coupe: here is the mission entrusted to this concept presentation in the aisles of the SEMA Show. It is forgotten the original mechanical since HPD has registry a compressor, changed the electronic management or reviewed the injection systems and cooling, or installing a new exhaust system, to grant it more temperament.
In figures this is reflected by the levels of power and torque which is set at 185 hp and 229 Nm. This more sporty temperament is accompanied by various changes to the level of braking and slung suspensions. The concept is shod in Michelin Pilot Super Sport wheels and inherits from rims in read of 18″.
And to accompany all of minor innovations are also on the agenda as the blade spoiler in carbon fiber, small spoiler or badges. What about the future potential of this concept? For now the Japanese study suggests potential CR-Z sports. This study points out a similar direction taken by Mugen at the last Tokyo Auto Salon. Again we chose to compress the hybrid coupe to give it more power. If Mugen and HPD seem deeply study the thing, can you imagine the short term a more powerful version of the CR-Z, CR-Z Type R Hybrid?