Chevrolet Camaro Hot Wheels
In general, the models are based on actual vehicles or reproduce. For the first time, Chevrolet and Hot Wheels joins to proceed in the opposite direction: to create a special series of products inspired by toy manufacturer.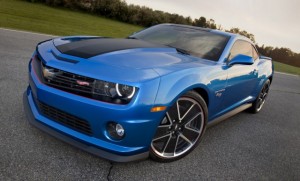 Presented at the SEMA Show in Las Vegas, Camaro Hot Wheels will be produced in early 2013 in a limited series, available in coupe and convertible, V6 engine with 323 hp or V8 400 hp (426 with the manual gearbox).
The reference to the universe Hot Wheels past by the electric blue color with matte black stripes, and large 21-inch wheels highlighted in red. There are also elements of specific bodywork (bottom of body, front bumper lip), some directly from the ZL1: grille, rear spoiler (coupe only).
The signature of Hot Wheels appears on the front grille, trunk, front fenders, seats, door decorations or door sills…