It was an open secret for weeks that is now official: green light has been given to the production of the Cadillac ELR coupe. Foreshadowed at the time of the Converj concept, unveiled three years ago now (Detroit 2009), the production model will take the path of production at the end of the year next before a commercial introduction next year.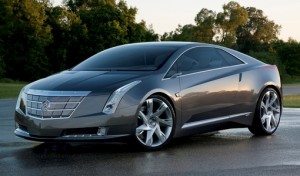 If the Cadillac range is called to copiously to expand in the coming years, the ELR coupe series is one of these new models. The American brand has officially confirmed that the future production model will be assembled on the side of Detroit-Hamtrack even where are produced the Volt/Ampera. Nothing illogical on the contrary since the coupe shares the same Voltec technology except that the electric motor of the coupe should be more powerful.
The addition of this model to the production in the factory, and a new assembly line will require an investment of thirty-five million dollars. Now we wait to see what looks like the final production model (next Detroit?).
In its statement, the U.S. manufacturer said it will be faithful to the Converj concept, happy news. For Cadillac, it will also be a way to reconnect with its past since the last two-door coupe of the brand dates back to the late 1990s and before the Eldorado coupe comes also expand the family of the CTS…