Volkswagen Taigun Concept
Volkswagen in account not leaves its rivals play alone much longer on the market of small crossover. Its entry on stage will be to the global scale, as shown in the Taigun concept unveiled at the Sao Paulo show.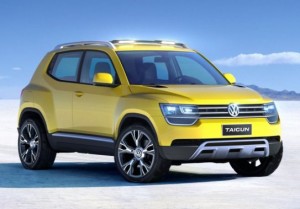 The range of SUV of Volkswagen now has two models, but should quickly expand. In addition to the renewal of the Taigun in order to fill the space with the Touareg, it will expand downwards also. This is illustrated in this Taigun, which incorporates the technical basis of the Up!, Namely the New Small Family platform. Eventually, the range could well be five or even six different models.
The style is in line with the Cross Coupe concept and bodes for the future of SUV brand, while maintaining an air of strong family with models already on the market. Family look for the style, but also for the name, which is an anagram of Tiguan. Small game in which had already taken part Volkswagen for the Routan Minivan in the United States … Not enough to make much originality in the name, but if we can save on the purchase price of the letters of the logo …
Inside, we find the spirit up! in the dashboard and the atmosphere. There is also the seat of the small car. Based leads logically very compact dimensions. So nothing to do with Opel Mokka, who wants to play on the upper segment. The Taigun measurement 3m859 long, 1m728 wide, 1m570 high on a wheelbase of 2m470, 50 mm longer than the Up!. The volume of trunk configuration 4 places is 280 liters.
Under the small muscular hood, 3-cylinder TSI, and expressed with 81 kW/110 hp/175 Nm. The weight is 985 kg, and the announcement of communication (do not forget that it is a concept) is 4.5 L/100 km.