Volkswagen Arteon with replacement of CC
The German brand anticipated with sketch a model with five-door fastback and body. It will introduce a brand new design language and will stand out for its versatility. It will be ready next year.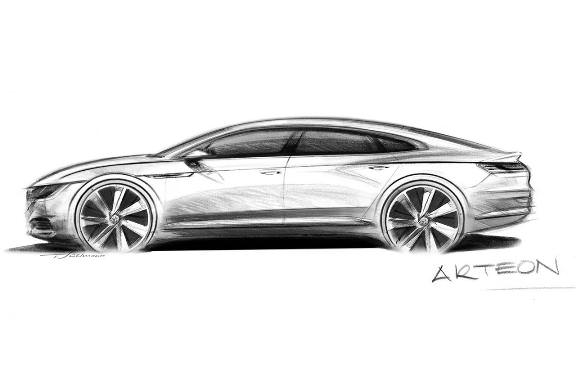 Volkswagen anticipated the Arteon, a new model presented at the Geneva Motor Show in March 2017, which will debut in Europe (during the summer of that continent).
At the moment, the model was developed only through a sketch showing one of the sides. The brand announces that it is a completely new vehicle, a premium fastback with four side doors and tailgate.
With the Arteon model that will be located above the Passat, the German brand will incorporate a new design language that emphasizes the horizontal style, anticipating a design that promises to be "revolutionary".
Among its features, the Arteon includes lights with LED technology and a horizontal grid whose lines extend to the headlamps, which feature of three-dimensional style. For now, the company has not shown the front of the model.
Other key to the future model is the soft fall of the roof (as in CC), the side doors without frames and a trunk that promises to be "huge" and be provided with a wide access.
Judging from the style, the new model could be the replacement of the known CC. However, it is distinguished by the presence of tailgate, model in order to gain versatility.
It is too early to know if the Arteon reach the European market, where the brand marketed the Passat CC and then also the CC, the evolution of its sedan model with coupe style.