Venucia E30: Nissan Leaf Chinese
The progressive enlargement of Venucia, a brand of Dongfeng-Nissan, is running. So after the D50 and R50 will very soon the new C30, a car that is obviously not reminiscent of a Japanese electric compact.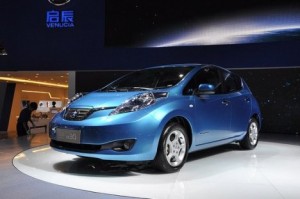 And for good reason … Cause and effect as it is about the Chinese cousin the Nissan Leaf, a Venucia E30 which was foreshadowed a few weeks ago by the evocative concept Venucia E-Concept. As the concept of the rest this Nissan Leaf Chinese sauce, which will be produced in industrial facilities of the brand in Guangdong, boasts slightly larger dimensions winner including nearly 4 inches in length while being higher or shields to adopt revised and new retro design as the Venucia logo.
For the rest, Nissan or Venucia not communicate any information yet. Unofficially, it would be introduced the next year profiting then from its local production to post a ticket of more accessible entry.
Recall in conclusion that when Nissan and Dondfeng Motor Corporation had closed in 2011, plans to launch electric vehicles in China were recorded in 2015 calendar. The advance seems taken. To follow up for all the details and features.