Honda has announced, with the traditional silhouette in a grim picture as a teaser, a small crossover concept will be presented in Detroit next month. The manufacturer is miserly information about the car, and requires the dissection of each word of the short press release.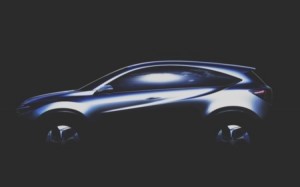 Here we go: it is a concept of "global", which means it is not a purely American model. It has a "dynamic profile of SUV and sporting", with a "roomy" interior, and last index but not the least, is based on architecture "with central fuel tank". It is not permitted to deduct from this last point a strong relationship with the Fit/Jazz, Honda model range already uses this architecture and makes the best use to provide recognized habitability.
A crossover based on the platform of the Fit? Good thing we talk about such a development model for some time. The Urban SUV Concept is definitely a harbinger of this model, and beyond could also give clues about the next generation styling of the Fit/Jazz, which should point the end of its body in the second part of 2013 or at the start of 2014.