V6 Twin Turbo 425 hp for the new Cadillac CTS
The new Cadillac CTS will be unveiled next week at the show in New York. For this third generation Cadillac chose to communicate in the first place on the engine, especially on the new V6 Twin Turbo 425 hp…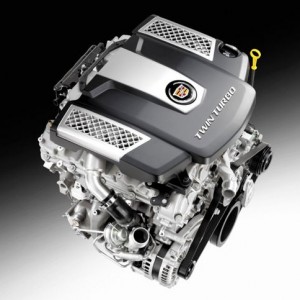 With the arrival of the ATS, the new CTS is a little up in range to position itself to face more direct references to the segment, German and Japanese: Audi A6, BMW 5 Series, Mercedes E-Class, Lexus GS or Infiniti M. To impose itself, it hopes well to hold head to them with the mechanical ray, and will premiere in the latest GM engines. The V6 3.6-liter direct-injection supercharged by two turbochargers.
An engine derived from the V6 3.6-liter direct injection already known in many GM products, crossovers Buick Enclave/ Chevrolet traverse through the Cadillac XTS passing by the Chevrolet Impala … Derived yes, but in reality almost totally specific, since the new parts comprise among others the engine block, cylinder head, connecting rods, pistons … It changes all the points with a forged crankshaft. Modifications made at the same time to improve operation of the engine in a general way (reduction of the frictions for example) or to adapt to the new mechanical or thermal constraints (cooling, lubrication, air intake …).
The engine is based on the V8 6.2L LS9 for the design of the part overeating, with the aim of reducing the air flow to a minimum. The heat exchanger is mounted above the engine, and the pressurized air enters the intake system through a single point in the center. The goal, as evidenced also use two small turbos is responsiveness.
In terms of numbers, the engine announces 313 kW/ 425 ch (420 hp) and 583 Nm. The values that Cadillac does not hesitate to compare with 407 hp/600 Nm 4.4 liter V8 TwinPower of the BMW 550i, it also twin turbo.
The American brand specifies that CTS will TwinTurbo from 0 to 96 km/h (60 mph) in 4″6, with a top speed of 270 km/h. Rare a enough announcement of performances for American manufacturers. The engine is also associated with a brand new box of the GM team, including eight reports. The CTS will also offer the V6 3.6-liter atmospheric version (321 hp) and 2.0 liter 4-cylinder turbo (272 hp).