While the fourth generation of Japanese compact SUV will make its European debut in Geneva in a few days, the manufacturer supplies new details. This information relate primarily to the level of CO2 emissions of different versions.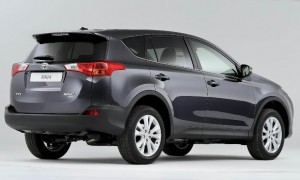 The increasingly crowded segment of SUV compact, Toyota will rely on its fourth generation of RAV4 to perpetuate the commercial success of the three previous generations whose total sold models has reached 4.5 million copies, 1.2 million in the old continent.
Longer (4570 mm, 205 mm), wider (1,845 mm, +30 mm) but lower (1.660 mm, -25 mm) than its predecessor, this new generation is distinguished by its stylistic orientation and review interior changed. On unpublished figures detailed by the brand, they concern the engines available in the catalog: petrol 2.0 liter VVT-i 151 hp, 2.0L diesel D-4D of 124 hp and 2.2-liter D-CAT of 150 hp. Toyota says that the entire range CO2 levels dropped by 11% on average.
In detail, the 2.0 liter petrol of 151 hp 4 × 4 (BVM6) appears at 167 g/km of CO2 against 166 g/km of CO2 for the same engine box Multidrive S is two loaded premiums at the level of €1500. The 2.2 liter D-CAT of 150 hp 4 × 4 (BVM6) displays 147 g/km of CO2 against 173 g/km CO2 BVA 6 is respectively loaded premiums €400 and €1,500.
Finally, it is supply diesel 2.0 liter D-4D of 124 hp entry-level and two-wheel drive, which displays the lowest to 127 g/km of CO2 or a positioning in the neutral zone of the bonus. Next step: a presentation in Switzerland alongside its commercial launch in Europe (the RAV4 is now available to order).