Despite repeated assaults, the market for large pick-ups is the private garden of American manufacturers, who draw much of their income. Toyota continues its efforts with an improved version of the Tundra, which continues to emphasize its origin more, American than Japanese…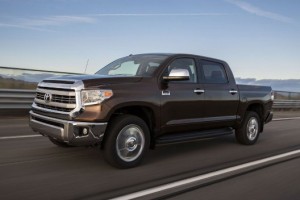 For years, the credo of communication of Toyota in the United States is to show the contribution of the brand to the American economy. This is even truer for the Tundra, which caters to a clientele particularly faithful to the offers of Ford, Chevrolet, GMC and Ram. Designed in Ann Arbor, Michigan, produced in San Antonio, Texas from 75% local parts…
For its first big change since its arrival on the market in 2007, the second generation Tundra has sought to strengthen as its rivals, its style on the themes of power and strength. This results in a more imposing grille always framed by enlarged optics. At the rear, the new tailgate incorporates a light deflector, and the inscription "Tundra" relief for a more monolithic aspect. It is available in standard cab (Regular Cab), double (Double Cab) and two elongated (Crew Max).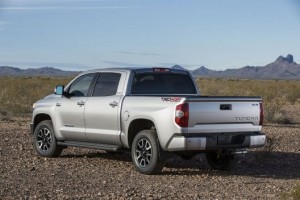 On board, the board changes in a rather clear way, by giving up its presentation centered on the driver. Here, the Toyota pickup is positioned at the heart of the market by taking over a classical organization and presentation in the segment.
The range is now based on the work SR version, heart-end look more off-road SR5 and high versions: Limited, Platinum and above all the new 1794 Edition. RAM has its Longhorn, Ford its King Ranch edition, and Toyota tribute so here at the ranch founded in 1794 and whose land is located in San Antonio factory…
Some new equipment is emerging as the rearview camera, blind spot monitoring system or dedicated to using the exit of parking space Rear Cross Traffic Alert.
Three engines with the catalog, virtually unchanged: V6 4.0 liter of 270 hp, V8 4.6L of 310 hp and V8 5.7 liter of 381 hp.