Toyota FCV has a name: Mirai
The official announcement of the first Toyota fuel cell is in Tokyo, and the manufacturer has released an introductory video to reveal its name: Mirai.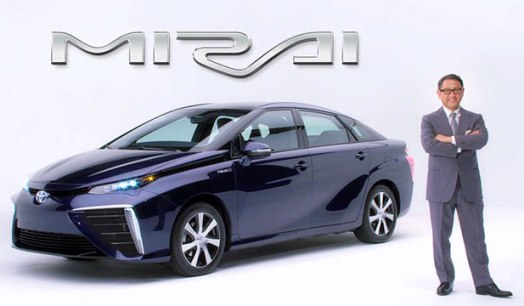 It is not a surprise since the information had leaked a few weeks ago. Mirai (未来) simply means "future", a name that embodies a very direct Toyota's intentions regarding this technology. After imposing gasoline-electric hybrid and becoming the undisputed leader, the leading manufacturer took the important strategic decision to pass the stage of the all-electric and staking everything on hydrogen and the fuel cell.
The message highlighted in the video is explicit: "the car that lets you has it all, without compromise. The compromise in question is directly electric cars: performance and battery life, the reasons cited by Toyota not to commercialize electric IQ a time put forward.
Toyota Mirai is the first step of this strategy based on the fuel cell, which is accompanied by a major effort to deploy a hydrogen distribution network. This lack of infrastructure was for now the major obstacle to the development of this technology, which Toyota has the scoop. The Honda FCX drives a small number for nearly 10 years, Hyundai has also been placed on the market ix35 FCEV. Toyota is betting that the Japanese market and audience are ready to teething to deploy large scale before going to conquer the world (ballast US should see Mirai in 2016) and the manufacturers strong enough and influence to invest in the long term.
It is interesting to note that the video is presented by the boss of Toyota, Akio Toyoda, who increasingly tend to pay in person to embody its brand. Before all the details and specifications of the car, that's what gets in condition.