The New Toyota C-HR Concept
Frankfurt motor show saw Toyota reveal their new C-HR concept car. They did reveal the concept car last year but this year saw a new reincarnation of the same car. The car will be in the compact crossover section and it is for someone with an active urban lifestyle. This means that it has a stylish look, which is similar to the original concept car but now has 5 doors and metallic grey paint. This new concept looks more production ready too with front and rear bodywork looking different.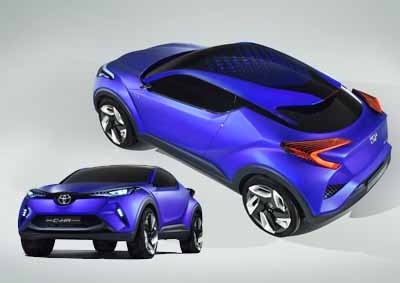 The platform of Toyota of this new coupe is also designed to impress. It now will have state of the art control and handling. It is a compact size and with a low centre of gravity and a rigid structure it aims to be great to drive. The car also comes with the same hybrid system as in the Prius. This will not only provide the necessary power for the car but it will have good fuel economy as well as lower emissions which is idea for an urban car.
The style of the car has many eye catching features designed to help it to stand out. The diamond architecture styling theme is designed to represent the surfaces of a precision cut gemstone. The corners are tapered which means that the wheel arches have flair and the car is lighter. The upper grill is a floating wing feature which looks to flow around the front corners of the car and there are headlamps within the wings which have the daytime running lights in them.
The roofline looks floating and has a spoiler on the tip which is emphasised by the C pillars which taper to needlepoints. The roof has patterned openings making it play with the light. The rear lights are tapered dramatically and are very distinctive which will really make the car stand out more but fit in with its overall design. Of course concept cars are used to test new design ideas and so all of these new design features may not stay on the production model car, but it is still interesting to look at some of the new ideas.