The new Mini unveils some new techniques
The new Mini will be unveiled in November. But already the manufacturer describes the technical aspect: the engine and the chassis that will mark the biggest change for this new generation. Proving its now very German roots, unveils the new Mini foremost its bowels. It is that it will be the first marketed car of the BMW Group to operate the new family of 3 and 4-cylinder engines, but also UKL1 platform.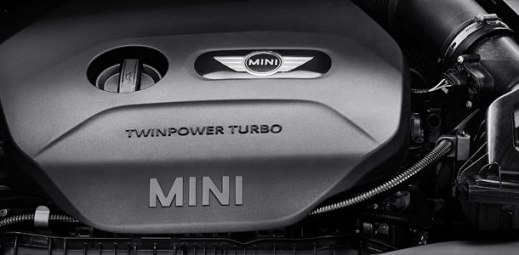 These new engines are already widely been detailed. To summarize, remember that this is a new family of modular blocks with a high degree of commonality between the petrol and diesel versions. The unit cylinder capacity is 0.5 liters. The program in gasoline direct injection, turbo (installed in the exhaust manifold), double Vanos (control camshafts) and Valvetronic for the most exclusive versions.
The Cooper will receive a 3-cylinder of 136hp and 220Nm, and the Cooper S one 4 cylinder (2.0 liter so) with 192hp and 280Nm in the diesel range opens at launch with a 3-cylinder 116hp/270 Nm.
These engines will be combined with new manual and automatic transmissions. These include a feature adaptation of the engine speed during gear changes. As for automatic transmissions, its will if connected to the navigation system to adapt the shifting profile of the road…
Entirely new platform still retains the UKL1 retains patterns of trains used by the Mini for several years: Pseudo McPherson front and multilink at the rear. However, the new generation is more flexible to accommodate more vehicles (including BMW models) to segment C (replacing the Series 1), and also lighter aluminum or steel with employment a (very) high elastic limit. Note also the appearance of controlled dampers, unique in the segment.
Last one, security. Mini course intends to achieve the best scores in terms of occupant protection and the whole structure has been designed in this direction. It also protects pedestrians with an active bonnet. Here also a first on the segment, which helps maintain the relatively low cover.