The 10 Best Engines of 2013 in the U.S. according to Ward's Auto
The title of car of the year is not, by far, the only reward after which run the manufacturers. There are also engines of the year, and the title awarded by Ward's Auto magazine for 10 years referred, at least for the U.S. market. And surprised, this year no hybrid group is included in the list.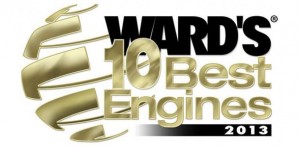 Like each year for 19 years, the editor of Ward's Auto elected the 10 best engines of the year, after evaluating 40 vehicles during their daily commute around Detroit. Performance, consumption and leisure are taken into account in the judgment.
40 vehicles, including 11 hybrid and electric, none of which appears in this year on the 10 award-winning engines. A change, since this is the first time in 7 years. 7 years have greatly changed the landscape, half of the engines are this years are 4 cylinder. There were none in 2005 … 7 engines feature direct injection and a turbo 4. And for the second year there is no diesel, since the choices is made only on models sold in the United States, yet rarely have this type of engine. Maybe next year, since the supply will greatly enrich in 2013…
According to the jury, the absence of hybrid or electric is proof that petrol engines still have room for improvement to improve the terms of use.
The 10 best engines are (between parenthesis the tested vehicle):
3.0L TFSI Compressed DOHC V6 (Audi S5)
2.0L N20 Turbo DOHC L4 (BMW 328i)
3.0L N55 Turbo DOHC L6 (BMW 135is Coupe)
3.6L Pentastar DOHC V6 (Ram 1500)
2.0L EcoBoost DOHC L4 (Ford Focus ST/Taurus)
5.8L Compressed DOHC V8 (Ford Shelby GT500)
2.0L Turbo DOHC L4 (Cadillac ATS)
2.4L DOHC L4 (Honda Accord Sport)
3.5L SOHC V6 (Honda Accord)
2.0L H4 DOHC Boxer (Subaru BRZ)
Two awards for BMW, Ford, and Honda, as well as the return of GM through the engine of Cadillac ATS.