Presentation of the Honda engine 1.6L i-DTEC
On the occasion of the launch of the new Civic at the Paris Motor Show, Honda unveiled its next-generation diesel engine: a 1.6 liter of 120 horsepower.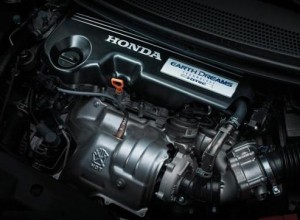 The 1.6L is narrowly derived from the 2.2L motorizing the preceding generation. It offers a power of 120 hp at 4,000 r/min and a torque of 300 Nm at 2,000 r/min. Emissions amounted to 94 g/km CO2 in the combined cycle. This engine wants the lightest in its class and the leader in terms of acceleration and emission control.
Facing the 1.6 TDI the new Golf (105 hp/250 Nm/99 g/km) or 1.6L e-HDI of the 308 (112 hp/270 Nm/100 g/km), the 1.6L i-DTEC does not actually have to be ashamed of competition.
The new i-DTEC is made from a cylinder block and a cylinder head made of aluminum. Cylinder walls are now 8mm thick (9mm on the current 2.2L). The 1.6L i-DTEC weighs 47 kg of the state less than the 2.2L.
In addition to weight reduction, Honda has also committed to reducing friction. The Japanese brand has set a goal to reduce friction to an equivalent level to that of gasoline engines. The piston has a reduced height and particularly its walls are thinner. Compared to its big brother, 2.2L, friction has been reduced by 40%.
The turbo, of 4th generation, is provided by Garrett. Variable geometry, the boost pressure can reach 1.5 bar. It is finely managed by the ECU to reduce the response time.
The 1.6L i-DTEC in addition uses injectors Bosch able to inject the diesel with a pressure of 1,800 bars inside the cylinder. The conduits of admission were optimized in order to improve the effects of vortices (the swirl) in the cylinder. Thus, the air-fuel mixture is more homogeneous, reducing at the same time poor combustion, following from possible hot spots.
Exhaust gas recirculation (EGR) is carried out at high pressure (exhaust gases are collected at the outlet of the exhaust manifold) and low pressure (after removal of the particulate filter – the gases are cleaner but the high pressure of gases is less).
The 1.6L i-DTEC has been specially developed for the European market. It will be assembled together with the 2.2L at the factory of Swindon (England) assembly capacity for up to 500 engines per day (1.6L and 2.2L).