Subaru introduced hybrid technology on its land
On the occasion of the last show in New York, Subaru lifted the veil on XV Crosstrek hybrid, representing its first future hybrid production model. This is now the Japanese manufacturer confirmed the introduction of technology in Japan.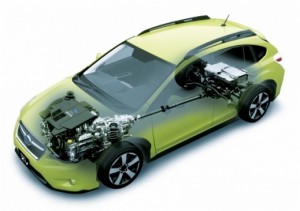 We had already understood the technical architecture of the XV Crosstrek hybrid four-wheel drive. Here it is confirmed by Subaru in Japan. We thus find the 2.0-liter Boxer engine and the power of 13.4 hp integrated into the CVT Lineartronic. According to the Japanese cycle, he claims 5L/100 km.
As for the nickel-metal-hydride battery of 100 V and 13.5 kW is located under the rear floor and the engine uses an integrated starter and for the Start & Stop function generator.
If the center of gravity and weight distribution remain the same, the hybrid model shows 136kg more than its thermal cousin. Finally, note that Subaru announces the introduction of the hybrid model from next summer and the Japan.