Renault presents the Twizy Renault Sport F1 Concept
Renault had published a photograph on a concept combining both Formula 1 and electric. This is a Twizy F1 which was presented at the Valladolid factory where the electric quadricycles of the rhombus are assembled.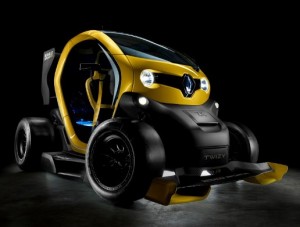 Large front spoiler, aerodynamic pontoon guides, rear diffuser and huge "bucket back" worthy of the nastiest cars Pikes Peak, the Twizy Renault Sport F1 clashes with its big bad look. But the Twizy Renault Sport F1 is more than a concept "tune" adding slick tyres and carbon.
Indeed, Renault will lodge a KERS similar to that of the current formula 1 allowing culminating the Twizy RS F1 97 horse power! (Against 17 for the Twizy 80). Wide slick tires are not too much to absorb the influx of power and literally catapult device. The 0 to 100 km/h is done in less than 6 seconds, Renault declaring this Twizy did equal game with the Megane RS.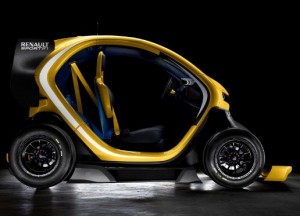 This crazy project was started last year in the formula 1 Grand Prix of Valencia, when turning a joke was told to "when a KERS on a Twizy?". Advantage of this remark thrown into the air, the teams worked hand in hand to achieve this result. The passenger seat is sacrificed to accommodate the system kinetic energy recovery KERS. It allows for 14 seconds of having the 80 extra horses.
Real technological challenge, the Twizy Renault Sport F1 is at the confluence of several technologies mastered by Renault. Probably less dramatic than the Espace F1 that 19 years ago put a V10 Formula 1 820 horses in a minivan, the Twizy F1 is yet in the same vein.
Side sheet, the weight is on up to 564 kg (473 against a classic Twizy), but 97 horses "boost" can display a weight/power ratio of 5.8 kg/hp. The classic wheel was replaced by a similar one racing wheel, bristling with buttons model, and displays information directly from the telemetry system embarked RS Monitor.
Unfortunately, this crazy Twizy will remain in the state of concept (though the Juke-R was a delirium engineer knows a limited series). It will serve as a flagship for Renault at various events on the circuit.