Range Rover Evoque Cabriolet: not validated or abandoned
At the last Geneva Motor Show, Land Rover takes full advantage of the hype about its SUV Evoque to uncap it in the form of a concept and poses it in virtual competitor in a Nissan Murano of the same barrel.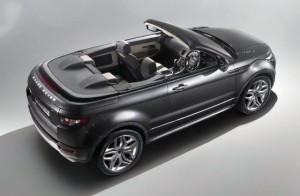 Since then, radio silence. The silence has been broken … Broken … but certainly without anyone knowing more clearly! And as reported in the media, echoing remarks made by a member of the manufacturer, no decision has yet been taken by the management of the brand.
In summary then the project has not been validated but not permanently stored into oblivion. As the Murano of the same ilk, this proposal on the basis of the Evoque would before any new and surprising… Disconcerting same.
However, the interlocutor stated that a sport stamped version of the premium SUV was well within the boxes of the brand. But without more detail but still specify that a V6 option was not contemplated. To follow for both versions therefore.