Production start for the Toyota Auris Touring Sports in Burnaston
When the Auris does the trunk, it becomes Touring Sports, a first in the Auris range available in both petrol and diesel but also hybrid version, a version that should make up for four out of ten units sold in Europe. This version comes into production in the Burnaston British complex…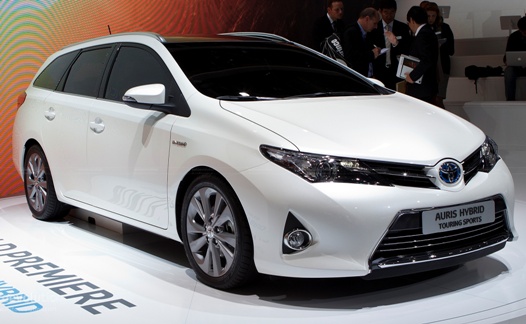 Joining the compact Auris and Avensis, the version station-wagon Touring Sports started production within the factory of Burnaston. On this occasion, Toyota Manfacturing UK (TMUK) took the opportunity to reaffirm its commitment to industry in Britain and held a ceremony with the CEO of Toyota Europe or the Secretary of State for Transport.
Referring to the schedule, we note that the Toyota Auris Touring Sports will gradually unload at dealerships beginning in July specifically marking the new offensive of the mark on the C-segment.
This version, for the record, claiming 28.5 cm extra length compared to the sedan to 4.56 m long and provides a load capacity of between 530 and 1658 according to the interior configuration, rear seats folded or not. Note that the hybrid battery version being grafted under the rear seats, the cargo volume remains similar.