Neiman Marcus sells 12 McLaren MP4-12C Spider in two hours
The store of luxury objects Neiman Marcus takes us all the years a christmas catalog in which is usually some special edition of expensive cars, exclusive and luxurious. The special version usually lasts less than a candy to the school door and in this case the exclusive models were 12 McLaren MP4-12C Spider. The crisis does not appear to affect the luxury goods and the 12 McLaren were exhausted in just two hours since it was placed on sale.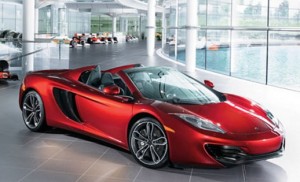 Last year sold 10 Ferrari FF in 50 minutes and three years ago sold 50 Jaguar XJ in four hours and four minutes. It seems that these special editions are really coveted. The Neiman Marcus model McLaren MP4-12C Spider costs 272,500 euros (excluding tax), which are a thousand more than the approximately 250,000 euros for the standard version of the car.
This extra price includes several extra things for the future owner, such as a trip to England in first class, two nights there in a five star hotel, a visit to the McLaren factory and a dinner with Ron Dennis. It also comes standard with a set of luggage and a nameplate with the number of each limited edition.
These 12 McLaren MP4-12C will be delivered to their owners before Christmas.