Mercedes SLS AMG Electric Drive
The price/performance ratio of pure electric cars are currently prohibitive for the majority of potential users, a number of manufacturers have made the reasoning that the public of the sports 'toys' of very high quality for whom money is not a problem might be interested to electrical experiment more easily than Sir or Madam Lambda. Where a series of electric supercars in preparation, including the new Mercedes SLS AMG Electric Drive which is the production version that will be on the market in 2013.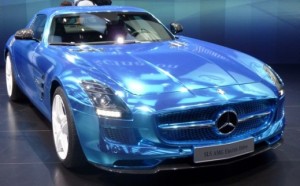 The SLS AMG Electric Drive follows the SLS E-cell fluorescent yellow that was already made out in the lounges. In passing to the same electric blue that the Class B Electric Drive, the SLS AMG however keeps the system of four motors (one per wheel) that develop all 740 horses, a figure worthy of the SLS, and even higher than that of the V8 engine that equips the thermal car.
Although that equipped with a serious battery pack, the SLS AMG ED claims 3.9 seconds from 0 to 100 km/h, which could well be the best time of an electric car but who dragged 3 tenths behind the thermal sister. It does not matter, the real target of the SLS AMG ED is the Audi R8 e-tron, which is also courting the rich electric amateur sensation.
The theoretical autonomy is of 250 km, and a full recharge takes 20 hours on standard socket and 3 hours with the quick charger proposed by Mercedes. And it will cost around 400,000 euros for a SLS AMG ED.