Maruti-Suzuki Alto K10 Knightracer
The Alto K10 is a facelift version (and a bit more muscular) of the old Alto. No. 1 in sales in India, in November it became the first car to exceed 20,000 sales in the month. Now, the manufacturer wants to tackle people "refined tastes" (according to the marketing manager) with this special Knightracer.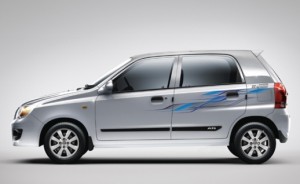 Maruti brings back us to the era of the 205 Ocean and other Supercing Tiga. Indeed, the main attraction of the Knightracer is the toto sticky running doors to rear fenders. As a bonus, it offers front and rear bibs!
Inside, it gets printed "Knightracer" on seats, the glove boxes behind the front seats and on the wig of the steering wheel (!) As a bonus, it is entitled to a JVC MP3 Radio with USB port.
All this for an additional cost of 13,490 rupees (€189) what makes your Alto K10 Knightracer 330 848.39 rupees (€4,600).
To charm the "elite" who is "proud to be a performance car" (always after the marketing manager of Maruti).