Landwind is back. Not on the European market, but well of return on the front of the scene with a very new model of SUV more modern than the antiques derived from Isuzu Amigo/Rodeo. Because the SUV is the new conquest of Chinese manufacturers, and the X5 belongs to the new wave.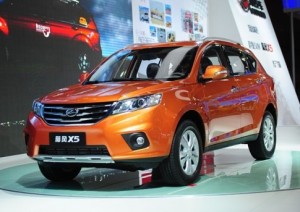 After years of a market dominated by more or less legal copies of Japanese models rather rustic, the SUV market becomes emancipated. The new wave is named GreatWall H6, BYD S6, Gleagle GX7, JAC Refine S5… Landwind took advantage to get back to business with the new design and much more modern style model, going further than X8, which retained the previous technical base under a present body.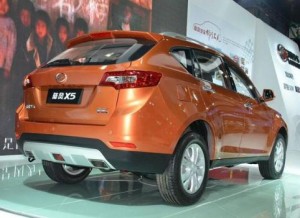 Modernism confirmed under the hood for this X5, because if a very classic engine Mitsubishi 2.0L atmospheric is announced, launching will be done with a 2.0L Turbo of 180 HP and 250 Nm. It is especially associated with an 8-speed automatic transmission. The first one for a Chinese vehicle.
Length of 4m56 and width of 1m855, X5 adopts a very classic style, with a suspicion of Hyundai or Audi in the back in the same spirit as very recent JAC Refine S5. Inside we find an air of already having regard to (Toyota Rav4). Inside we find an air of already having regard to (Toyota Rav4). As for Lifan XC60, difficult to really speak about copy, but rather about frank inspiration.