Promised before the presentation of the European version, the Optima Hybrid arrives. As advertised, it does not reflect the mechanics of its North American cousin.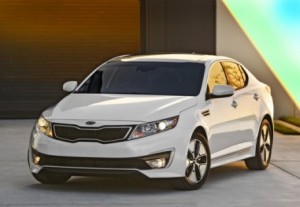 Although, for most motorists, the hybrid is Toyota exclusiveness, many other marks are present on this market. There is also more than one large group to be absent from this niche: Renault. But, Europeans being less sensitive to this technology than the Americans and the Japanese, of many hybrid models are unknown for us.
The Optima Hybrid was part of them, as it was previously reserved for the USA and Canada. While crossing the Atlantic, but its barters nevertheless its 2.4 GDI 166 hp against one 2.0, to gasoline always, of 150 hp. The motor power remains the same, and always develops 40 hp. In total, the Optima offer 190 hp and thus promise an average consumption of 5.4L/100 km (125 g/km CO2).
Optima Hybrid is available in a single version, fully equipped (xenon, alloy wheels 17″, leather, GPS …) and displayed at €33,890. This is €360 less than a Toyota Prius equipped similarly, but much less powerful and space.