Infiniti Q50: Advanced developments under the hood
Revealing the new Q50, heir to the G37, in the alleys of Detroit, Infiniti announced that the initial mechanical offer was going gradually to be widened with the reinforcement of motorizations specific to certain markets.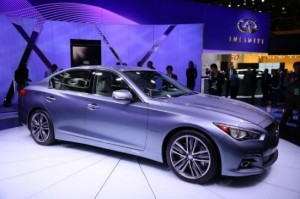 This was for the official. Regarding unofficial now, we learn a few indiscretions. And broad alliance between the Franco-Japanese manufacturers to star engines could see more European to land on our markets. To complete an initial offer structured around the V6 3.7 liter of 328 hp or V6 3.5-liter hybrid developing of 350 hp, and it was announced the arrival of a four-cylinder diesel of German origin.
Either the 4-cylinder turbocharged 2.1L we find the example under the hood of E250 CDI or S250 CDI releasing some 204 hp and 500 Nm especially also see the option of V6 diesel of 250 hp. What to ask for more Infiniti in front of its best German rivals.
And nothing to spoil, the rumor of a Q50 IPL (Infiniti Performance Line) is also relayed to tease shields RS, Motorsport and AMG. In the past it has been the G37 Coupe of this ilk… A G37 coupe which from the rest should soon decline in Q60.