Mini Clubman Bond Street and Hyde Park
Never short of limited editions to stir the attractiveness of its models, has Mini continued its tour of London streets and neighborhoods, with a small passage through Bond Street. While remetant cover on the series Hyde Park with new harmonies.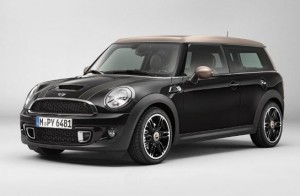 Bond Street is the shopping street ultimate luxury in London. The shops are named Chanel, Prada, Yves Saint Laurent, Gucci, Chaumet, Cartier, De Beers … For the occasion, the Mini features a black livery and Champagne (roof, mirror caps, center of the 17-inch wheels, cover strips rim …).
Atmosphere found on board with specially designed sports seats and leather paneled course. The Champagne is coordinated with piping decoration door dashboard, which is also dressed in leather.
Available in Cooper, Cooper D, Cooper S and Cooper SD, Clubman Bond Street receives stealing leather, sensors of rain and luminosity, air conditioning as well as the packs storage and luminosity.