Go From The Office To Soccer Practice With The Kia Sorento
Life can get hectic sometimes. The day that your meeting runs late is the same day that your daughter's soccer game is scheduled an hour earlier than usual. With traffic the way it is in the GTA, you barely have enough time to pick up your kids on your way home before you head out to the pitch. When you're also carpooling several of your daughter's teammates you can't expect to comfortably drive a small sedan. At the same time, you don't want to have to drive a minivan to work just so you can transport the team at night.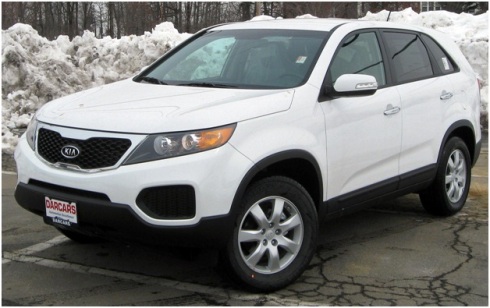 A crossover SUV is the perfect blend of style and size for any working family who has to make it out to weekly games. The Kia Sorento has been a popular choice with busy Canadian families since 2002. Whereas Kia used to be an underdog, they now stand side by side with such powerhouses as Lexus, Toyota, and Jeep.
As a cost-effective, reliable vehicle, the Kia Sorento is definitely putting other crossovers to the test. Whether it's for children or gear the Kia Sorento has the space needed, without the look of a mommy-mobile minivan or hulking full-size SUV. Between its sleek design and 4×4 option, the Kia Sorento is a rugged alternative when you need legroom, cargo room, and style all in one package.
Its sleek silhouette hides five seats that you can increase to seven with an optional 3rd row for when more of the team needs a ride. And with front and rear bottle and cup holders, you can keep the team hydrated too. Meanwhile, you won't be embarrassed to park it next to a sport car in the office parking lot.
But as with any young family, you don't have the budget for a brand new Sorento. New cars mean higher insurance rates, hefty depreciation, and increased taxes and fees, in addition to monthly car payments. Buying used, however, means you can escape the inflated price the Kia dealership lists. By checking out your local classified blog you can contact individuals within your area who are looking to sell their used kia sorento. You can shop for a SUV from the comfort of your own home, without the high pressure of the sales room. Once you meet the seller and make the deal, you can feel accomplished for having directly supported your local community, as buying used keeps money in your city as opposed to international companies.
Going to a classified ad site and being able to type in "Kia Sorento" saves time, money, and frustration. You can contact an individual, set up a meeting, and drive away with an award-winning crossover SUV with the help of a local classified site. That way the next time you're rushing from work to carpool with your daughter's teammates, you won't worry about where all of the girls will fit; and the next day, you won't be embarrassed to park your Sorento at the office.