Ford Mustang CobraJet, twin turbo inside
In many families, there is this a bit eccentric figure. In the Mustang family, this role is kept by CobraJet which adopts a new motor boosted by two turbos to replace its compressor.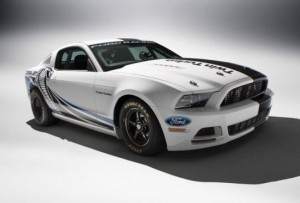 Unlike the Shelby GT500 or Aux Boss 302, the CobraJet is not intended to run on the open road, and it is a model specifically devoted to NHRA Drag Racing. For entry in 2013, CobraJet prolongs the process of reducing displacement launched in 2010 with the arrival of the V8 5.0L in place of the 5.4L.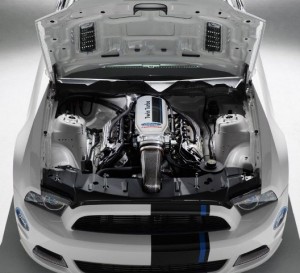 For memory, the first CobraJet in 1968 had of 7.0L to express themselves. The next step is now to replace the compressor with 2 turbos. Two elements that must be after the NHRA regulation to come from the standard production by the manufacturer. They come from in the occurrence of the Focus ST. The V8 for its part should remain on its displacement of 5.0 L, but Ford does not confirm.
The appearance of the CobraJet evolves with a new style for the front and rear evolving to match the rest of the Mustang range.