While Toyota reduced the wing on its Tacoma compact pickup, GM announced the arrival of its new models from Chevrolet and GMC. Both retain their names: Colorado and Canyon. A new beginning for the compact pickup?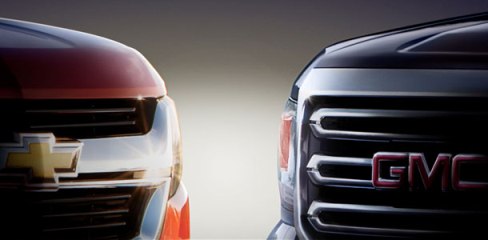 From the first concepts announcing the next generation of international Colorado pickup, the question of whether it would be produced in the United States arose. For if it is indeed the paradise of pick-up, its compact pickup collapsed over the years, and today sees deserted by most manufacturers. Even Toyota, which dominates is now trim in reducing the range of Tacoma.
But GM still on the segment and invests heavily in Wentzville, Missouri to produce a new generation of Colorado, and don its cousin GMC Canyon. Their arrival in 2015 and they announced via a first illustration. This is only sketching the radiator grille of both models.
However, it is sufficient to say that Colorado will have a different face of the model in the world, despite a common technical base. If in many markets it may be fashionable to soften the lines to bring the pick-up of the SUV market, the American pick-up must now be strong and muscular, yet economical.