The racing version of the Audi R8 is evolving along the "civil" version. And it is also entitled to a baptism in Geneva.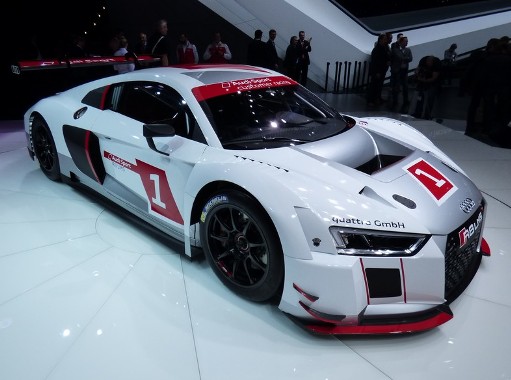 The R8 LMS was the first competition of Audi GT. The firm with the rings had a policy of selling to private customers. 130 cars have been built since 2009. B – Quik Racing comes to buy one for the Thailand Super Series. While the Phoenix Racing account align a "Asian" car (entrusted to Marchy Lee, "Shaun" Thong and Markus Winkelock) in Blancpain Endurance. The LMS 8 won 26 victories in GT3 and 7 races in 24 hours. The latest laurels back to last weekend, when Nathan Antunes won 2 of the 3 Australian GT races in Adelaide. Not to mention the three editions of the R8 LMS Cup.
The cars are produced Bollinger Hofe industrial park, with Quattro GMBH, amid the "normal" R8. Then the assembly is completed in Heilbronn-Biberach.
The R8 LMS includes of course the new front of the car series. In addition, it receives a new flat bottom and a redesigned diffuser. The rear wing (perched even higher up the Cup Version) did not unanimous. Cooling was increased by 10%. The good news for drivers is that are now entitled to a wind tunnel. Note that the new bucket is from the R18 e-Tron. As in the DTM, it is possible to extract the driver from the roof in case of accident.
The new ASF (Audi Space Frame) chassis is in an aluminum alloy/carbon fiber. It lost 30kg to 252kg without sacrificing stiffness. So, the general mass goes down to 1250 kg 1225 kg. The 5.2l V8 led to 585hp. According to Audi, the block can hold 20 000km without revision. It has a sequential 6 speed gearbox, unique relationships with the paddle wheels. The software of the mapping engine and that of the box are new. Suspensions are also unpublished.
Audi announces no gains in performance. It will have to wait for the apparitions in the race to find the gain in seconds. The first deliveries will take place in the spring. Adderly Fong, 2013 champion of R8 LMS Cup, has already been able to roll with a "2015" cup.