Audi crosslane coupe concept
Stylistic study, technological showcase and precursor of a future small Q2, the Audi crosslane coupe concept (no capital letters) appears quite impressive in the aisles of the World of the Automobile in Paris, a new step in design after the previous Quattro concept.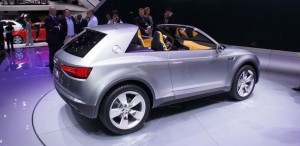 There was therefore in descending order Q7, Q5 and Q3: here a new profiles that small Q, the number 2 (alias without doubt the declination SUV of the A1). In terms of style, the concept 2+2 displays the color. Headlights of trapezoidal shape, front grille even more prominent, optical stretched, taken to massive air, pronounced wings, rising steeply inclined rear to give it a look of a coupe: the Audi crosslane coupe concept lays the groundwork of the future style of the Q line.
The concept is based on the Space Frame multi-material body consisting of three materials: aluminium, composites reinforced carbon fibre and glass fibre. To quantify this gives a weight of 1390 kg. Size: 4.21 meters long, 1.88 meters wide and 1.51 meters high with a wheelbase of 2.56 meters.
Mechanical level, there is a powertrain hybrid dual mode already seen at work on the small A1 e-tron. Specifically, it is equipped with a three-cylinder TFSI to 1.5-liter with an output of 95 kW (130 hp) and 200 Nm.
The three cylinders are connected to the first electric motor used in first line of starter and alternator. Its power is 50 kW (68 hp), its torque of 210 Nm. Electric traction is provided by the second electric motor 85 kW (116 hp) and 250 Nm electric mode, it is possible to drive up 130 km/h (86 km range on electric mode only). Audi claims levels of 1.1 L/100 km and 26 g/km of CO2.
We also note its unpublished removable roof, its trunk forming a bag and can move 40 cm electrically, sports seats made of carbon fiber, etc. More angular but also more cubic, more geometric with its recalls in trapeziums, Audi crosslane coupe concept shows therefore including the future stylistic way of the range of SUV.