2017 Armada, new generation of Nissan's SUV flagship
The new Armada offers a variety of versions with both 2 and 4 wheel drive configurations, and further, has a variety of features including an 8 inch color display, seats with heating and Bose audio system with 13 speakers.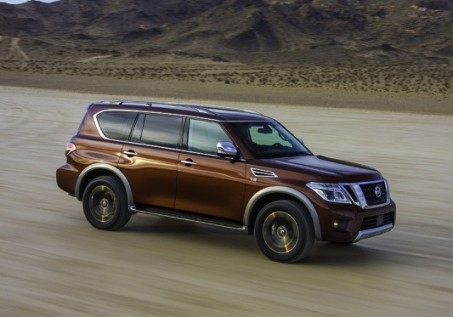 The all-new Armada is based on the heritage of Nissan Patrol and was designed for family adventures; however, it remains true to its roots as a strong, durable and authentic 8-passenger SUV.
As part of its adventurous spirit, the new Armada offers a standard 4 tons carrying capacity (3,855 kg) for both 2W and 4W models (when properly equipped).
The redesigned bodywork of Nissan Armada presents an aggressive posture with a bold V-motion grille and LED headlights and LED daytime running lights – maintaining strong and athletic image of the previous generation but adding a contemporary style. At the rear, LEDs are also included as part of this bold combination of lights.
Inside, 2017 Armada improves the silence of the cabin and rapid cooling or heating of the interior, as well as reducing noise levels through the use of acoustic glass in the windshield and front door windows and extensive use of sound-absorbing materials.
The new Endurance V8 engine, maintains the same 5.6-liter displacement of its predecessor, but offers an increase in horsepower offering 390 compared to the previous 317, thanks in part to the addition of several advanced technologies – including new Gasoline direct injection and advanced Variable system of opening and elevation of Valves. Additionally integrates the advanced 7-speed automatic transmission which replaces the previous 5-speed.