Volvo Iron Knight, the fastest truck in the world
The Volvo Iron Knight Trucks holds the records for official speed categories of 500 and 1,000 meters. During manufacture of the truck, a team of experts from Volvo Trucks found an innovative way of merging technology with design.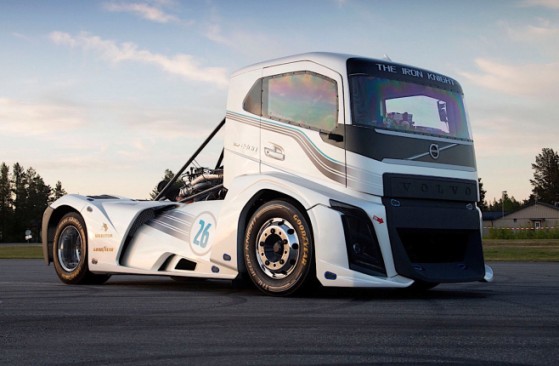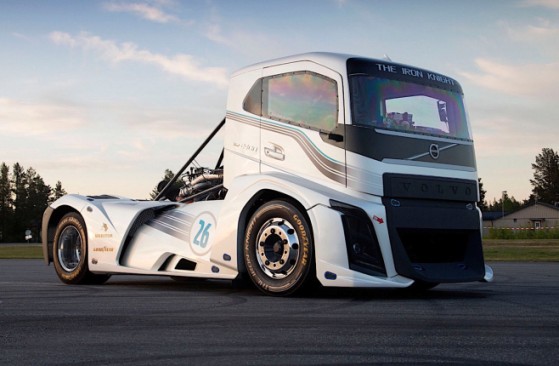 With an average speed of 169 km/h in a time of 21.29 seconds, the Iron Knight broke the world speed record in the category of 1,000 meters with standing start. It also broke the record in the category of 500 meters, to 131.29 km/h in 13.71 seconds. The race was held on a closed test track and has the recognition of the FIA, the international motor racing association.
"This shows that our I-Shift dual clutch gearbox has huge potential and will not fail under extreme conditions. The fact that this truck beating world records use the gearbox as it is made, without alterations is something we're really proud of", said Claes Nilsson, President and CEO of Volvo Trucks.
To the steering wheel of the Iron Knight was Boije Ovebrink, which has more than 30 years of experience in racing cars and trucks. Previously, he had beaten five speed records and in 1994 was European champion in truck racing.
"Specialists from different departments of Volvo Trucks worked closely to develop a truck with outstanding performance. With the exception of the kinematic chain of Volvo Trucks, which constitutes the core of the Iron Knight, the rest of the truck is manufactured by hand from scratch. The fact that we managed to beat not only a record but two is amazing", said Olof Johansson, Volvo Trucks technician.
The Iron Knight: A breaks records truck
With 2,400 hp, 6,000 Nm of torque and weighing 4.5 tons, the Iron Knight has a relationship ratio superior to 0.5 hp/kg.
The engine mounted in the center is a D13 model with significant changes which has heat exchangers chilled by water and four turbochargers.
The I-Shift dual clutch gearbox keeps the torque during gear changes.
The electronics has been reduced to a minimum to remove weight from the vehicle.
Software has been reprogrammed to deliver high performance.
Aerodynamic cabin, made ​​of fiberglass, has been optimized. The large air intakes of the skirts are supplied to the engine cooling air.
During races, the Iron Knight reached a top speed of 276 km/h.