Toyota Comfort, new for 2014
Appeared in 1995, the Comfort has remained on the margins of any modernization since. It is a bit to Toyota that the Crown Victoria was to Ford. Solid and reliable, it receives some (very) minor news for the vintage 2014.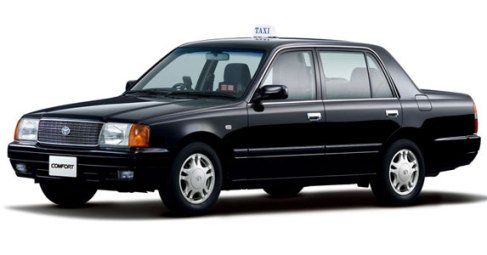 The new 2014 Comfort (or Crown Sedan/Crown Comfort, Crown designating long-wheelbase versions, having nothing to do with the Crown Majesta and Royal) are really minimal, and are mostly an opportunity to restore some light on this little-known Toyota. But which is nevertheless a part of the Japanese automotive landscape, and Asia with its allure of another time.
A landscape in which it fits into its role as taxi driving school or official car administrations (some versions are not for sale to the public). In Japan, but also in Hong Kong or the rest of Asia. However, although the Nissan Cedric, its nearest rival, left the scene in 2009, the Comfort has no free field. It is increasingly preferred to the Prius … which is not necessarily the case of Akio Toyoda who stated in 2011 that the Comfort was his favorite Toyota, because the more faithful to the fundamental of the brand…
But it continued its career faithfully, always produced by Kanto Autoworks as the Toyota Century. And for 2014, it therefore offers the TRC traction control, VSC stability control … and adjustable intensity for lighting counters…