Tokyo 2013: Mazda3 SKYACTIV-Hybrid
Announced in 2010, the agreement between Mazda and Toyota hybrid technology will be realized at the Tokyo show, by presenting a SKYACTIV-Hybrid version of the Mazda 3/Axela. For the time reserved for the Japanese market, but this cannot last.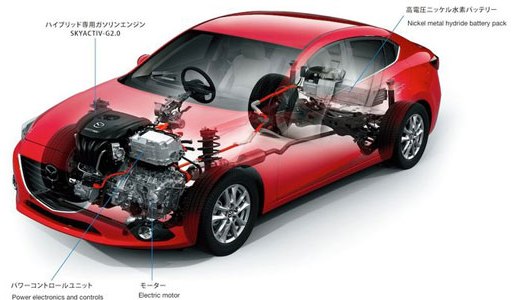 In spring 2010, Toyota and Mazda announced an agreement under which Mazda would be allowed to operate the Toyota hybrid technology under license. Best selling range is logically the Mazda3 (Axela in Japan) which first benefits of this agreement.
Not by taking strict sense mechanical of the Prius, but combining Hybrid Synergy Drive to home mechanics, namely the SKYACTIV-G 2.0-liter. The values ​​of power and torque are still unknown, but consumption is announced to 30.8km/l (3.2l/100km) by JC08 cycle. It is better than a Prius, announced 30.4km/l…
This hybrid version is only declined on the 4-door body. Mazda also adds a new Skyactiv 1.5 l engine in the range of the Mazda3, along with a declination 4WD (only with the 1.5 liter, 4 and 5-door).