The Roewe E50 is a reality
BYD is not the only manufacturer to pay close attention to electric vehicles. Roewe happens to turn on the market with a vehicle specifically developed. The E50 is no longer a concept but a reality, charged 234,900 yuan (€29,300).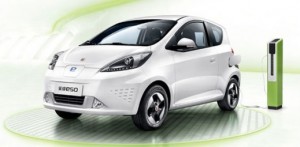 For many years, Chinese automakers have increased experiences of electric vehicles derived from existing models. It may well include the Chery QQ or Cheryy/Riich M3, Zotye 5008 or Mutlipla … among others. SAIC, via its Roewe brand, this goes further with a specific model, the second of its kind in China after the BYD e6. A model is presented as E1 concept E1 at the Beijing show in 2010, and this year in the same place in next version of the production.
Here it is now sold for 234,900 yuan (€23,900). Thus in Shanghai the price comes down to 120,000 yuan (€14,975), an amount much more reasonable for a small sedan for 3m569 long, 1m551 wide and 1m540 high. The wheelbase is 2m305. The E50 is based on a new platform designed to reduce weight. Verdict: 1080 kg, including batteries of 18 kWh.
The engine has 28 kilowatts (52 kW peak) and 155 Nm. The maximum speed is 130 km/h, but Roewe is quite vague on its autonomy: 18 km at constant speed of 60 km/h… Metering mode for less unrealistic. The charging time will be 6H on a standard catch, and 30 minutes to reach 80% in fast charge.