At the Frankfurt Motor Show, it must pass through the Porsche stand … And on the Porsche stand, we must linger over the 911 Turbo! Alongside the 50th anniversary version, the "Turbo" is displayed in a very German white.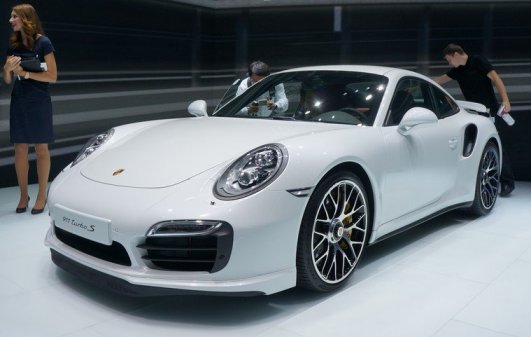 Already four decades that overeating is available on the icon of Zuffenhausen. After the arrival of the Type 991, the Turbo came a little over a year later.
The Turbo and Turbo S sharing the flat six 3.8-liter supercharged by two turbochargers with variable geometry for 520 hp and 550 hp respectively credited to the Turbo and Turbo S to an average level of consumption down 16%. In theory? 9.7l/100km to 227g/km of CO2.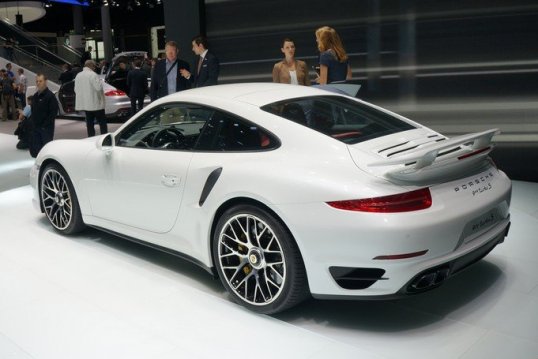 Note therefore the Porsche Active Aerodynamics (PAA) system, a first for the 911 Turbo, rolling stabilization system Porsche Dynamic Chassis Control (PDCC), Porsche Active Suspension Management (PASM), which manages the electronically controlled shock absorbers, and the Porsche Stability Management (PSM) without omitting the inevitable wheel drive which has been optimized for in case of need provide extra torque to the front wheels and unique active aerodynamic system (retractable front spoiler and rear wing three segments unfolds through three levels).
The Turbo S boasts 560hp between 6,500 and 6,750 rev/min, 700Nm (750Nm with Overboost function of the Sport Chrono Package as standard) when displayed Turbo 520hp between 6,000 and 6,500 rev/min, torque 660Nm between 1950 and 5000 rev/min (710Nm overboost function when the optional Sport Chrono Package is enabled).
These new versions of the 911 range will be sold at the end of the month. The 911 Turbo is available at a price of €163,919.00. The 911 Turbo S is priced at €197,288.