The future Peugeot 308 will be presented in a few days in Frankfurt but it should not be the only one to focus attention on the French stand. Indeed, Peugeot has unveiled a radical concept on the basis of the compact.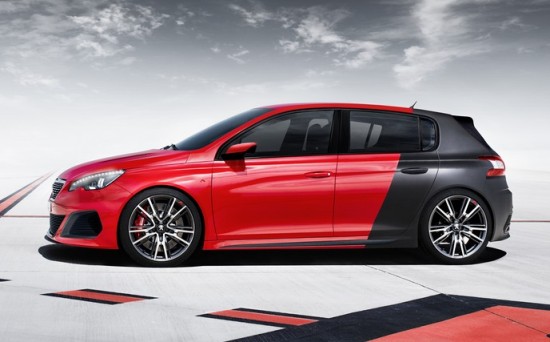 Alongside the standard version, the 308R Concept has been officially announced. Aesthetically, sportiness and aggressiveness are waiting for you. This concept is adorned front and rear wider bumpers, three huge air intakes in the front and two outputs positioned on the bonnet, a radiator grille in checkerboard 208 GTi, with extended wings, 19-inch wheels, new side skirts or a dual exhaust. Other stylistic detail, the famous lion of the mark throne here in the center of the grille unlike the 308 where it is located at the top.
Everything is painted in a two-tone body combining an opaque red and blue-black cut the sides of the pavilion. Lighter with multiple body parts in carbon (doors, wings, hood, bumpers etc.), 308R that does not benefit the final flag and the origin of the 308 hatchback. The airfoil is accented with mirrors and refined a longer rear spoiler finish from the roofline. To stick to the ground, this concept is lowered 26mm.
Under the hood is the same engine as the RCZ R. If the outside may seem very radical, under the hood, the 1.6 liter 4-cylinder develops 270hp with a ratio of 170hp per liter sent through a manual 6-speed gearbox. Its maximum power is reached at 6000 r/min and torque of 330Nm is available from 1900 to 5500 rev/min.
For the occasion, Peugeot Sport has also reinforced some parts such as the engine block, pistons or the addition of polymer rod bearings. Braking is also the rendezvous with Alcon disks of 380 mm diameter at the front and 330 at the rear, all mounted on 235/35 R19 tires. Finally, on the inside, the driver benefit of Peugeot i-Cockpit to do more body with machine.