Pikes Peak 2013: Mitsubishi will secure the race
The Pikes Peak race is fast approaching as the famous climb will take place from June 25 to 30. If all frames of this new edition have almost been unveiled, Mitsubishi has introduced the official race cars that ensure secure. The new Outlander will be worth it to keep the 208 T16 Sebastien Loeb but its purpose is not really to frighten the times…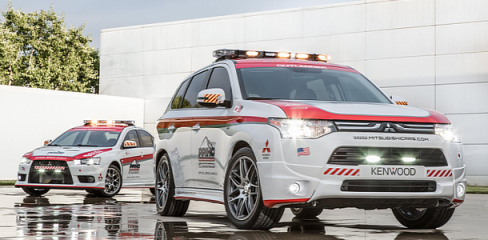 Like the Moto GP with BMW and Formula 1 with Mercedes-AMG is Mitsubishi cars that provide safety for the competition Pikes Peak with the Outlander and Lancer Evolution. For the occasion, the Outlander will benefit from a more athletic style and a lowered chassis. Both vehicles have benefited from the work of several processors and suppliers known as Cobb Tuning, BBS, AEM, Kenwood and DC Sports.
The Japanese brand will be well represented this year because in addition to these 'standards' vehicles, Mitsubishi will engage two electrical monsters to come to grips with the side of Colorado and compete with Toyota rival.
There are two prototypes MiEV Evolution II. These cars are taking advantage of the experience of i-MiEV Evolution that ran last year in the same power class. The first car will be driven by the particular champion who ran last year, Hiroshi Masuoka, and a second will be in the hands of Greg Tracy, six times champion of Pikes Peak Motorcycle.