Peugeot EXALT concept returns
For the world of Paris which opens in a few weeks, Peugeot bring Exalt concept slightly redesigned.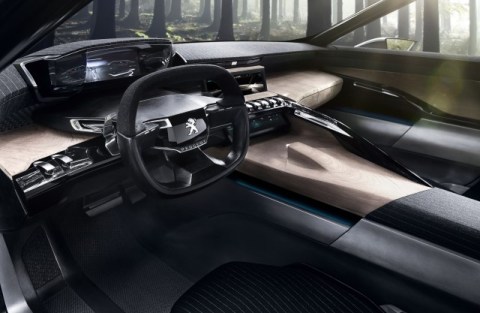 Presented in Beijing, we thought the concept Exalt ranked at Peugeot Museum. Nay, since the back again but this time the pink of the back (covered in "shark skin") gives way to a more discreet gray. Inside also the treatment of surface changes with a fake wood while the fabrics are darker than Beijing and accented with clear stripes. Note that in Beijing there was no fake wood, but the more expensive ebony and less "green".
For the rest, the Peugeot EXALT remains the same. The large sedan of 4.70 m retains its double hump roof that extends over the rear window and the HYbrid4 powertrain is back in the party. As a reminder, it comes to block gasoline (finally) 1.6 liter THP of 270 hp associated with a 70 horsepower electric motor according to the well known principle of Peugeot HY4.
The tailgate opening retains its pantograph, which unlike traditional hinges, opens the tailgate even in a space with a low ceiling. The next concept is accentuated by the interior with its "toggle switches" and its very pure dashboard in its design but also by the incongruous presence of an electric scooter, the HYmotion-kick under the trunk floor.
So by bringing new concept Exalt, even modified, Peugeot without tuning? Of the brand had nothing else to offer but still wanted to present something in Paris or, and this is more likely, this new batch of Exalt means that Peugeot will again reinvest the segment of the large slender sedan(fake coupe…) with a series derived from this concept.
The question is what is left of the concept precisely. If the gasoline engine Hybrid4 should remain (in cohabitation with a diesel version), not the inside or even the pantograph of the tailgate system survive the production. The 408 GT expected to arrive in 2016 and propose to the summit of the range a plush version of the strong 340 horsepower.