On board the new Mercedes E-Class
Mercedes continues its communication announcing its new E-Class. After some technical update on driver assistance and lighting, welcome aboard. Before a presentation in Detroit in January.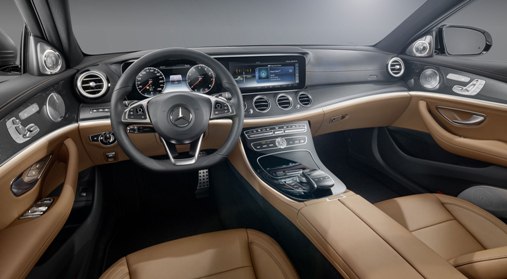 As clearly showed the prototypes, the new Mercedes E-Class is largely inspired by the big sister of S-Class, with its dual 12.3-inch display. The implementation is similar, with a floating effect reinforced by the mood lighting. That it is also found on the center console and doors offers 64 shades.
These displays are complemented by an extension of the touch controls. In addition to the central touchpad, the E class now acquires small tactile surfaces on the branches of the steering wheel…. All remaining complemented by voice control. In terms of orders include those of driving aids placed directly to the left hand of the steering wheel.
The growing importance of these displays and touch controls has also prompted Mercedes to create two new departments in charge of managing these new technologies in terms of their use by the customer: Digital Graphic & Corporate Design and User Interaction.
The E-Class also receives a Burmester audio system with 3D sound with 4 speakers at the pavilion. With a total power of 1400W, it features a total of 23 loudspeakers, including a subwoofer of 25 liters.
Remain to be discovered as the access versions. For the models shown here are of course with many options. The "standard" models receive a classical instrumentation with two barrels flanking a 7-inch display and 8.4-inch central display. As for versions with manual transmission, central console will be more clearly separated from the dashboard.